to my Blogoversary week here on "My Life..." where I will be celebrating my second year of blogging with the help of some amazing friends.
Don't forget to enter my giveaway at the end of this post!
First of all I'd like to wish Karin a happy blogoversary! Hip hip hurray! As my contribution I thought I'd share my favourite things of this year. Both bookish and non-bookish, as Karin herself also blogs about her favourite TV shows and other awesomeness herself.
Favourite book
It's not really a secret that I'm a huge Stephen King fan. I adore his writing style, and his endless imagination. Even though I've read about ten books of him now, Lisey's Story completely blew me away. It's such a personal book, and it's now one of my all-time favourites.
Favourite TV show
Gilmore Girls is such an amazing show. Even though the first season is quite old by now (it was aired in 2000), it's still a pleasure to watch the antics of the mother and daughter duo Lorelai and Rory and the inhabitants of Stars Hollow.
Favourite song
It's not a secret that I'm a huge Billy Talent fan (I own three band shirts and have seen them live four times). I think they're so versatile and dynamic, and I had a hard time choosing my favourite song off their newest album Dead Silence. In the end I picked Stand Up And Run because it's such a beautiful song that I can listen to again and again. Basically every song they make is perfect though.
Favourite performance
Surprisingly the best performance I saw this year wasn't Billy Talent (even though they come a close second). This August I finally saw System of a Down, something that has been my wish ever since they went on a hiatus. Their music is chaotic and not to everyone's taste, but I love it and their show was fantastic. They even brought their own rugs, which I thought was hilarious.
Favourite trip
London and The London Book Fair! It was also the first time I met Vicky from Books, Biscuits and Tea in real life, and we had plenty of adventures with tiny hotel rooms and getting lost in the city (and on the Fair) while there. The biggest adventure I had when I was on the way back though; instead of getting on the train to Germany, I was on the train to Paris. With no chance to get out before Paris. Whoops.
Favourite surprise gift
This one was really easy because I only got one surprise gift this year, ha! Karin sent me this book because we were supposed to trade this book at the Book Blogger Picknick in Amsterdam, but she couldn't make it. So instead she sent it to me by mail. So awesome, and such a nice surprise!
Favourite pet-related picture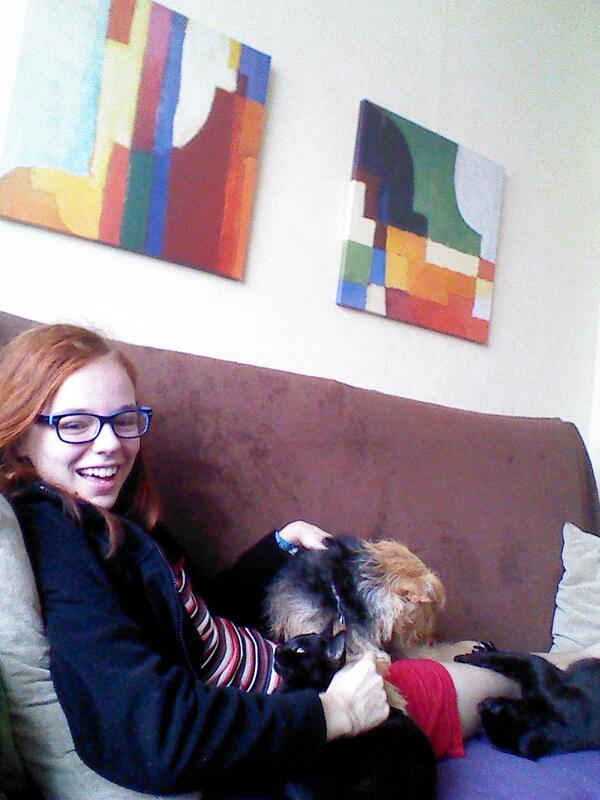 We got two kittens this summer, and they're growing like crazy! This morning both the dog and the two kitties decided to come snuggle and play, and this is all of them: Dippy looking at me, Bonnie the dog nibbling at her own foot, and Gijsje putting his paw around my leg.
So these were my favourite things this year, I hope you enjoyed them! What is your favourite book/song/trip this year?
To celebrate my Blogoversary!
I will give away a book of your choice
up to $15 from Book Depo
VII - very important information:
to enter please follow the instructions in the rafflecopter form.

you must be at least 13 years old or have your parents permission to enter.
this giveaway is open internationally as long as Book Depo ships to you.

the winner will be announced on the blog after the giveaway ends.

to protect your privacy please do not leave your e-mail adress in the comment section.
the giveaway will be open from Monday, the 14th till Sunday, the 27th of October.
a Rafflecopter giveaway